One of the leading coffee exporters in Honduras
Becamo S.A.
One of the leading coffee exporters in Honduras
Coffee in Honduras

Who we are

Honduras is a vibrant country, brimming with clear turquoise waters, pristine beaches, lush jungles, breathtaking mountains, challenging rivers, and fascinating ancient ruins. Vast expanses of Mother Nature are to be found everywhere.
The country of Honduras is home to people from various ancestries, from the Mayan Indians, who left us the Copan Ruins archaeological site (considered one of the most artistically advanced and elaborate of all Mayan cities) to the Garifuna communities (known in Europe as the Black Caribs) which are found today on the Island of Roatan and costal cities within Honduras.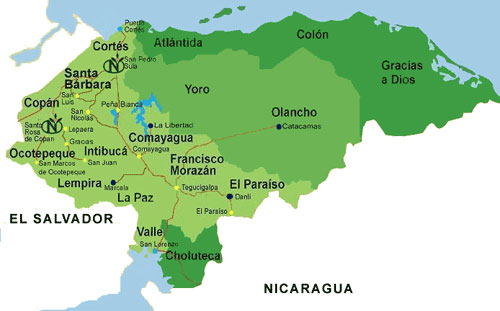 From the inspiration of our producers, a selection of our finest coffee beans.
Our Brands
The coffee that makes a difference
Quality is a journey, not the destination.
Sustainable Development Project
July 2000
Becamo starts social project in San Juan, Intibucá PCS1
---
November 2001
With the help of Becamo, the connection of San Juan to the national electrical grid can be achieved
---
January 2002
Becamo launches a three year project for sustainable coffee production (PCS) in cooperation with International Coffee Partners and the German Government (GTZ). The project encompasses 200 producer families.
---
September 2002
The new concept of a "Private Public Partnership" – Aid Project attracts attention of Honduran Government, which enters co-operation agreement with PCS
Production of quality coffee
Sustainable agriculture by increasing product value and farm diversification
Transition to ecologically and socially friendly production methods
Construction of ecological wet mills
Enhancing infrastructure and living conditions in project area
Certification with Rainforest Alliance / UTZ Kapeh/ Fairtrade / Fairtrade Organic
Most coffee plantations from San Juan are under the care of the indigenous Lenca people, who are descendents of the ancients Maya. During the Spanish conquest of Honduras the Lenca moved to the mountains of Intibuca, preserving part of their culture and mythical religious practices. For years they were deprived of basic social infrastructure in the region. The "Proyecto de Caficultura Sostenible (PCS)" has contributed to maintaining the incomes of small-scale farmers and to improving living and working conditions. Many coffee farmers have expanded their range of crops to include fruit and tree production in order to meet their own needs while also generating additional incomes for their families. Moreover, this new form of cooperation enables producers to gain direct access to international markets. While the farmers of San Juan seek to produce excellent coffees to the delight of consumers throughout the world, they also help to sustain the livelihoods for generations to come.
In the highlands of San Juan, Intibucá, near the natural reserve of Puca, a community of 400 small farmers produces a special gourmet coffee. The farmers' alliance for the "Proyecto de Caficultura Sostenible", a project for sustainable coffee cultivation, enables them to grow coffee in an environmentally friendly way to enhance their families' quality of live by participating in community projects.
While the region's soil quality and subtropical climate both create perfect conditions for the coffee trees to grow and flourish, the farmers are also dedicated to improving the value of the bean through diligent selection methods and quality controls. Coffee cherries, mainly of the Catuaí variety, are hand picked and only the red ripe ones are selected. After careful processing, the beans are sun dried in collective beneficios after which they are put into guardiolas, mechanical drum dryers, to reduce any extra humidity. The result is a bean of deep-green color and fresh smell, which develops a delightful aroma when roasted. Characterized by a fine acidity surrounded by a round, soft body with a flowery bouquet, this is an extraordinary Strictly High Grown Coffee.